About the Artist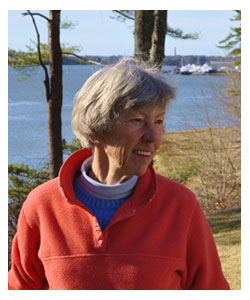 K. Dana Nelson (Kathie) was born in Portland, Maine. As a child she spent her summers on a very small island in Casco Bay, not far from the city of Portland. Never far from the water's edge, she held a fascination for the sea and all things related to it. As an adult she began sailing with her husband up and down the extensive coast of Maine. The challenges and sometimes dangers from these experiences are evident in much of her work. She particularly likes to paint harbors, fishing boats and sailboats, as well as surf, rocks, and the variety of structures along the shore.
Kathie is a graduate of Wells College in Aurora, New York. She has studied watercolor with Lou Bonamarte, Carl Schmalz, Carlton Plummer, Betty Lou Schlemm, Jim Kosvanec, Robert Wade, Alvaro Castagnet, and Carol Sebold. She has exhibited in dozens of group shows with three different art leagues, has had a two person show at Bowdoin College, several solo shows at the Fore Street Gallery, 372 Fore Street, Portland, which represents her. She was invited to be the visiting artist for one week on Spring Island in South Carolina in 2003.
She has taught a series of watercolor classes for several years, which involved giving about fifty demonstrations. Kathie is now concentrating on her own work, which is in many private collections all over the United States.